Profile

Lost Marbles
...scatter...scatter...scatter...
Free Account
Created on 2010-09-13 18:17:53 (#629977), last updated 2017-08-24 (3 weeks ago)
4,347 comments received, 169 comments posted
1,206 Journal Entries, 502 Tags, 0 Memories, 3 Icons

About
| | |
| --- | --- |
| Name: | miffimifster |
| Birthdate: | Apr 7 |
| | |
| | |

Mini Bio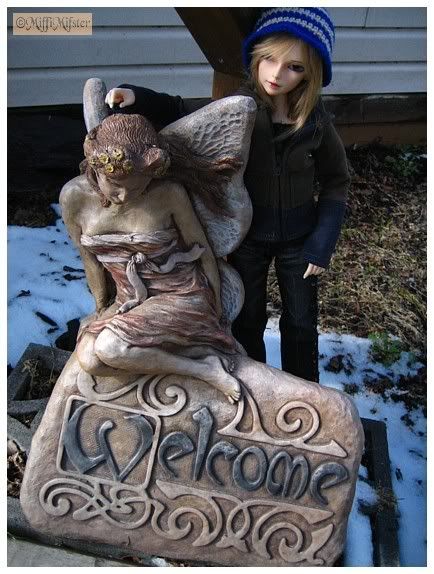 I started this journal BEFORE I found out about ABJD's (Asian Ball Jointed Dolls, also known as "Dollfies"), so it is not ENTIRELY about my dolls. However, I definitely get the biggest kick out of posting doll-related stuff here.


Besides the ABJD obsession, I have a bunch of other interests. Please feel free to visit, and if you do want to friend me, please let me know.


My journal is FRIENDS ONLY. Reply to my last publicly visible post, and ask to be added. Let me know where you found out about my journal. I'll most likely add you.


Here are a couple of my favourite quotes:


"We demand rigidly defined areas of doubt and uncertainty!" ~~Douglas Adams, Hitchhiker's Guide to the Galaxy


and one more:


"One is never alone with a rubber duck." ~~Douglas Adams, The Restaurant At The End of The Universe


Now, back to my MAJOR INTEREST:


In February 2006 I became OBSESSED with Asian Ball Jointed Dolls (also known as "Dollfies").


Asian Ball Jointed Dolls (ABJDs) are very elegant and beautiful dolls, mostly made in the far East - Japan, Korea, and China. They are sculpted with various clays, and then moulded into silicone, and cast in resin (polyurethane/plastic). They are wonderfully poseable, as all the major joints function - neck, shoulders, elbows, wrists, thighs, knees, ankles. Some companies make double-jointed dolls, and some have even put out optional hand parts, which have working finger-joints!


My FAVOURITE ABJD companies thus far are:


Luts Delf: http://eluts.com/

Dollmore: http://dollmore.net/

DollnDoll: http://dollndoll.com/index.php

Pipos: http://piposland.com/index.php

Fairyland: http://dollfairyland.com/

Iplehouse: http://www.iplehouse.net/

Dollstown: http://dollstown.com/

Infiniti Doll: http://infinitidoll.com/

some Volks: http://volksusa.com/


The wonderful thing about ABJDs is how customizable they are! With a change of wig, eyes, warderobe, shoes and paint (makeup/faceup) the same doll sculpt can become countless different characters!


Buying clothes, shoes, wigs and accessories for the dolls is expensive. So is having them painted to specification. Thus, over the past three years in the hobby I have learned to paint ABJDs (give them "faceups"), and have begun to improve my sewing and crocheting skills, as I've had to resort to making my own clothes for the dolls. I do buy some of the clothes, as my budget permits, and since I cannot make shoes, or fiber wigs, I buy those too.


I also make some fun-fur doll-wigs - for my own dolls, and to sell.



I currently own 11 ABJDs (some of them are "rolling heads" - doll heads without bodies of their own - they share bodies with my other dolls), and here they are:


*****


*****


*****


*****


*****


*****


*****


*****


*****


*****


*****


Extra "rolling heads":


-DIM (Doll In Mind) Persia (2005) head. I've had it since Aug 2007, and have tried making it into a girl. First, with a Fantasy Doll girl body, which I didn't like, and sold. Then, with a Dollinian girl body, which I also didn't like and sold. I finally tried the head on a Dollstown 15 boy body, which I borrowed from a friend. I LOVED it! So, I'm waiting to put some money together, so I can buy a new Dollstown 15 boy body. I hope this happens soon...



pseudomonasme scripsit anno 2005

Connect
abjd
,
alfonse mucha
,
anime
,
art
,
arthur rackham
,
asian ball joint dolls
,
asian ball-jointed dolls
,
batik
,
being human
,
belugas
,
bjd
,
bjd's
,
black adder
,
buffy
,
buffy the vampire slayer
,
cats
,
crafts
,
crochet
,
dave matthews
,
den of angels
,
discworld
,
dollmore
,
dolls
,
dollshe
,
dolphins
,
douglas adams
,
faceups
,
faeries
,
fairies
,
fairy-tales
,
fantasy
,
fawlty towers
,
firefly
,
gardening
,
hayao miyazaki
,
hellboy ii
,
hitchhiker's guide
,
hitchiker's guide to the galaxy
,
japanimation
,
jeeves and wooster
,
jim henson
,
john cleese
,
joss whedon
,
kermit the frog
,
kittens
,
lishe
,
lord of the rings trilogy
,
luts
,
manga
,
monty python
,
muppets
,
p. g. wodehouse
,
painting
,
peter gabriel
,
photography
,
pipos
, pipos ringo, roono, roonodoll,
sci-fi
,
serenity
,
sewing
,
sherlock
,
sherlock holmes
,
spirited away
, tensiya,
terry pratchett
,
theatre
,
tori amos
,
vicar of dibley
,
victorian era
,
victoriana
,
wonderwoman

People
[View Entries]

Communities
[View entries]

Member Of (1):

Subscriptions (4):

Administrator Of (0)

Feeds
[View Entries]

Subscriptions (0)

Linking
To link to this user, copy this code:
On Dreamwidth:
Elsewhere: